Behind the scenes: The invisible city [Kakuma]
Trailer: https://vimeo.com/164064320
Website: https://theinvisiblecitykakuma.com
5 years, that was never the plan. 2 years, yes. 2 years to make a film in Kakuma. Should have been enough right? I found my main charactersquite quickly. Nyakong, Claude and Khadijo.
Quickly I felt a connection with the main characters. They are younger than me, they come from a different culture. It helped that I had lived for almost 10 years in Ethiopia. Through the Ethiopians in Kakuma, I entered the Somali community and started working in a telephone shop. And yes we also sell cosmetics. But the best sold product is a Tecno Y20 smartphone. The people in the shop helped me to get integrated, not only in the Somali community but also in the other communities. There are 14 nationalities living in Kakuma. The cultural distance with the South Sudanese was bigger. But thanks to Nyakong - the main character in the film and at that time a girl of 6 years old-, her extended family gradually adopted me and after a while I a was part of the community. In Amharic, an Ethiopian language, they say 'step by step the egg learns to walk'. This integration process is essential to make a film and for The Invisible City [Kakuma] it was crucial. The people in Kakuma started to tell me stories and I started to understand the real mechanism of refugee camps in the horn of Africa. And maybe worldwide. I started off making a movie about a refugee camp that looks like a city. But gradually, the topic of the film changed. Now it's more about how we need to change the concept of refugee camps. Can we let them evolve or is it ok if they are just a waiting room?
While living and filming in Kakuma I saw that there are many unaccompanied minors in Kakuma. Mostly the parents are still alive but many of them don't know where they are and if they are still alive. Therefore, together with partners, we created an app to reconnect people. The film, the app and the interactive documentary about unaccompanied minors (release april 2017), are inseparably connected.
And there is Nyamuch. She didn't make it into the final cut. Sorry Nyamuch. But she lives in Australia now, married and with a kid. What a great Kakuma wedding that was. They met in Kakuma. His name is Maji Maji. In Swahili in means water water. He is South Sudanese and speaks Nuer. I guess it doesn't matter that it means water water. He got resettled to Australia. But he came back to marry her. Love! 3 days of filming the wedding, hours in the church, he brought 30 cows from South Sudan. Still wondering how he managed. We slaughtered one of them. We danced and danced and then the police came. It's still an urban legend in Kakuma that Maji Maji ended up in prison at his own wedding. There is a curfew you know. But the whole story didn't make the final cut. They are doing fine now there in Australia.
5 years of Kakuma has changed my life drastically.
Many new friends.
Many people to revisit and to visit somewhere else in the world.
Maybe the film will change your view on refugees and refugee camps, maybe not. But I think it will.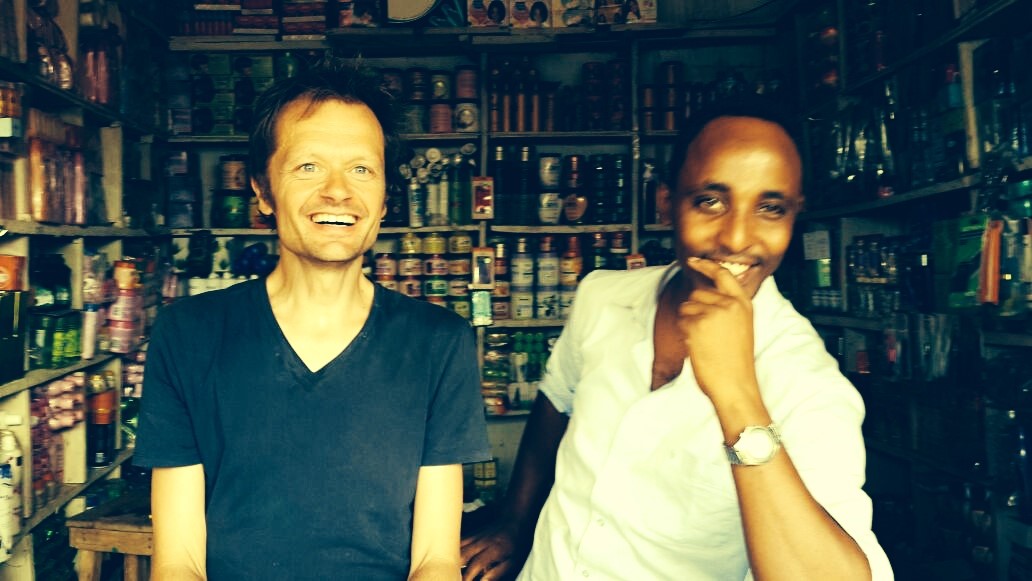 Lieven Corthouts is a self-taught filmmaker who travelled the world before living in Ethiopia for 10 years. There he made 2 feature documentaries: My Future and Little Heaven. Both films are about teenagers and their fight to get further up in life, brought in a very intimate and optimistic way. My Future (2009, 50') won the prize Best Debut at Miradasdoc. Little Heaven (2011, 70') premiered at IDFA, was sold by Taskovski and obtained the Bertha Britdoc Connect Fund. Lieven Corthouts' films were broadcast by ARTE, RAI, TV3, VRT, TV5, ZDF, Lichtpunt, RSI, Israeli Channel, TVI24. Additionnally, he sets up an adequate outreach and impact strategy for each film: in 2013 Little Heaven (about a girl with HIV) was screened together with an educational and discussion program on market days in small villages.
Lieven is assisted in his work by Cassette for timescapes, a Belgian creative company that produces films and crossmedia projects in order to create social or political impact. Céline Broeckaert is Cassette for timescapes' impact producer and rolls out together with Lieven the impact strategy around migration. www.timescapes.be -celine@timescapes.be